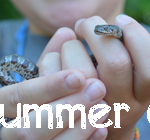 2019 Summer Camp Registration Now Open
General Information
At the Ned Smith Center's acclaimed Summer Camps, campers will not only experience authentic connections with nature, but with each other! Join us as we discover our world together!
Special thanks to Martha Weisgerber, Westminster, MD, with whom we are proud to offer this year's exciting summer camps!
Registration: 2019 camp registration form 2019 camp release form
Mail in Registration and Release Forms:
Please send completed forms and payment to:
Ned Smith Center for Nature & Art
176 Water Company Rd.
Millersburg, PA 17061
Online:
Phone: Call us at (717) 692-3699.
Note: For online and phone registrations, please complete the above Release Form and deliver it to us no later than TWO WEEKS (14 days) prior to the start of the registered camp session.
Cancellation Policy: All cancellation requests must be received by phone Mon – Fri, 9:00 a.m. – 3:00 p.m. A full refund will be issued when the Center is notified 30 days in advance of the first day of camp. All other cancellation requests will be charged $10.00 for each individual child registered for each camp session they are unable to attend. No refunds will be issued if the cancellation occurs less than 14 days prior to the start of the camp. Refunds are not available for absences.
Age Limits: Please respect our age limits when registering for camp. We sincerely appreciate your interest in your children attending camp, and we would love to have them when the time is right. We hold to these age ranges so that we are able to provide activities that are developmentally appropriate for each group. Thank you for your understanding and for helping to keep our camps the highest quality possible for all participants.
Grandparent and Me Camps: Make memories in these special shared learning experiences! For students 4—8 with an older adult (grandparents are especially welcome!) To facilitate the shared learning experience, each adult is limited to bringing TWO children to camp. Have more than two grandchildren you want to bring? No problem, just register another adult to have fun with your gang! Fee: $13/person.