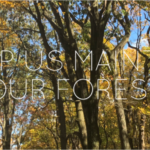 As fall continues and the trails are open to all our amazing patrons enjoying the fall foliage, please be respectful of the land. We are asking for your help to keep motorized vehicles off the Ned Smith Center lands, unless express written permission is given by the Executive Director.
Although we have posted signage, they do get torn down and we continue to have "trespassers" violate the regulations. The areas where we have the greatest issues are on the east side at the top of Woodside Station Road, on and off Barry Mountain Trail and on the west side beyond the PPL power lines and Barry Mountain Trail.
Motorized vehicles have already caused excessive damage to the trails and unless we can help stop them, access could potentially tighten, inconveniencing all those who use the Ned Smith Center lands respectively.
Please, help us by reporting any ATV, 4-Wheeler, side by side, Jeep or dirt bike by getting a photograph and if possible, a plate or registration number. If you can, report these sightings to the Ned Smith Center as soon as you see them. Help us maintain the beauty and natural balance of our forest and the legacy of Ned Smith and the lands around us.
Thank you all for your help,
John P. Booth
Executive Director
Ned Smith Center for Nature and Art